The easiest way to get the crumbs and dust hiding in the hard-to-reach areas? The putty is designed to clean dusty air vents, messy cupholders, console buttons, and all the other spots that a vacuum can't pick up. Customers who've used it for themselves say how "satisfying and fun it is to clean with."

Features:
Perfect For Car Cleaning: Car putty is perfect for cleaning the nooks and crannies in your car or truck. Car gel cleaner is super great to get into the vents and little crevices on the car air vents, steering wheels, console panel, storage bins, cup holder, door handle, dashboards to pick up the dust
Easy to Use: Take out the car cleaning gel with dry hands, knead a few times. Press the car slime for cleaning slightly on the dust surface and pull out the car detailing tools slowly the dirt would be carried away with the car cleaner slime. CARVE car cleaning slime is more useful than a car vacuum cleaner
Reusable: Gel for cleaning the car could be used several times till the color of the interior car cleaning kit turns dark. After use, please put the car detailing kit back in a jar and sealed storage in a cool place (below 104°F). ?Note: Don't wash the dust cleaning gel for a car with water
High-tech Cleaning Material: Auto cleaning gel putty is made of high-tech cleaning material, smells sweet with a lavender scent. Cleaning glue for car sticky dust but not sticky to hands. Car detailing supplies pick up all dust and debris and leave no residue
Multiple Uses: Automotive putties are also useful for home and office, PC computer keyboard cleaner and other rugged surface cleaning such as a printer, cell phone, calculator, TV remote and furniture. The suitable surface must be no water and the dust cleaner for car accessories would stick to it.
INSTRUCTIONS
Step 1–Taking out the car dust cleaning gel with hands, knead a few times
Step 2–Press the car detailing putty slightly onto the dust surface and then pull it up slowly, the dust would be carried away
Step 3–After use, put it back in the jar and seal storage in a cool place (below 104°F), reuse it till the color becomes darker and dirty
The auto interior cleaner is made of high-tech cleaning material

Specially designed for taking away dust and hair and cleaning corners

Car detailing tools is reusable and multifunctional
When the car putty cleaner color is darker and dirty, replace it with a new one
It is normal for the car putty cleaner to be a little wet

A little bit of sticky is needed to pick up the dust from the dirt surface areas

Car cleaning slime is sticky dust but not sticky to hands
CAR INTERIOR CLEANING
Cup Holder Cleaning
Center Console cleaning
Car Seat Cleaning
REMINDER
✔Do not wash cleaning goo with water. It's a no-clean product that can be reused multiple times
✔Inedible keyboard cleaner putty, keep the car slime cleaner away from children
✔Keep the car cleaner gel away from high temperature
✔Car dust cleaner gel is suitable for all devices and surfaces (except carpets)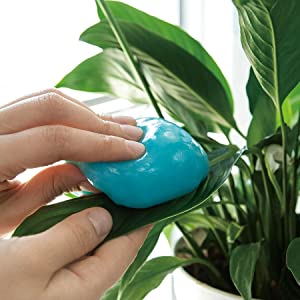 SPECIFICATIONS:
Package: 1 jar car cleaning gel
Size : 2.75 x 2.75 x 2.5 inches
NET WT: 5.6 oz (160g)
Clour: New Blue