Ever been stuck in the middle of nowhere with a flat tire and no one to help you out? With Inflatix™ you will not feel helpless in such situations.
It is a portable tire inflating device that compresses air to a flat tire. It doubles as your gas station tire inflator which can be used anywhere, anytime. It only takes up a few minutes to bring the tire back into its original shape and efficiently locks air to prevent leakage.
It is very easy to use, all you have to do is connect the ball needle to the air valve and attach the Presta valve on top which will then be connected to the tire.
The screen, situated at one of the ends of the device, will show the pressure in the tire so that you can then set the required PSI you want to get your tire into its shape. It will automatically stop when it hits the preset tire pressure.
It is an extremely handy device that requires no maintenance whatsoever. You can easily keep it in the dashboard or trunk of the car and it will come to your rescue and to anybody who needs to borrow it.
FEATURES
Smart LCD Screen: The portable tire inflator is equipped with an LCD screen that displays the air pressure of the tire and you will also be able to select the unit among PSI, Kpa, bar, and kg/square centimeter, to meet your different reading needs.
Multiple Uses: It is not just meant for inflating car tires, but it can just as easily be sued for pumping up bicycle and bike tires too. You can also use the inflator to inflate toys, camping mattresses, air beds, inflatable boats, etc.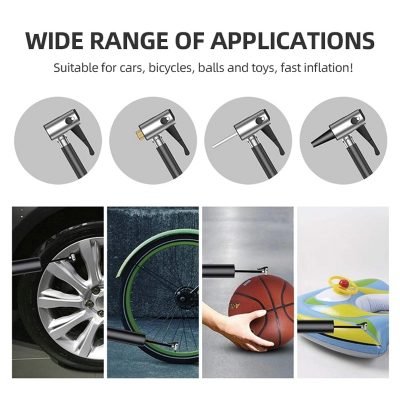 Built-in flashlight: The device also boasts two built-in LED flashlights that are bright enough to look into a flat tire in the dark. It particularly helps in emergencies and can be used as a torch too even if you do not have to inflate a tire.
Rechargeable Battery: Equipped with an in-built 2000 mAh lithium-ion battery that runs for several hours at a stretch when fully charged. In case it runs out of charge, you can easily connect the device to the power outlet of your car since you'll receive a car charger along with the device. Unlike battery-powered devices, you do not have to worry about replacing the batteries every now and then.
Ergonomic design: It is constructed as a lightweight but powerful device. It is intelligently designed in a cylindrical shape so that you can firmly grip your hands around the device while keeping it connected to the tire. One end of the device has to charge port, LCD Screen, on/off button, and buttons to increase or reduce the air pressure, while the other end has the air hole in which the hose will connect and two built-in LED lights.
Premium Quality Material: The portable tire inflator has been constructed using premium grade stainless steel that makes it durable and strong against minor accidental drops. The matte finish has a stain-resistant coating, making it effortless to be cleaned. Also, it is CE, ROHS, and FCC
certified that makes sure it is safe to be used.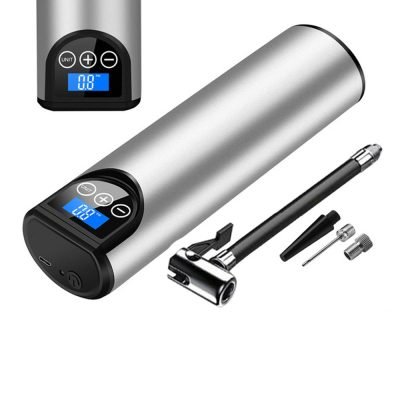 Operation Steps
1. Connect the hose into the bottom tire valve core.
2. Press down the buckle on the air hose to prevent air from leaking.
3. Press the button "Unit" to wake up the LCD screen.
4. Press the button "+" and "-" to preset tire pressure.
5. Press the power button to start inflating, it will stop automatically when the preset pressure is reached.
Package Including:
1* Air Compressor
1* USB Charging Cable
1* Air Hose
1* Presta Valve
1* Ball Needle
1* Toy Nozzle
1* Storage Bag
1* User Manual