Features: 
Premium Quality: Our loud train truck horns kit is composed of zinc chrome-plated material and a carbon steel body to ensure maximum strength and durability. It is can withstand harsh weather conditions or extreme temperatures with trusted quality and lifespan.
150dB Loud Air Horn: The loudness of these air horns for trucks and trains can reach up to 150 decibels. 4 different size stainless steel horns emit a super loud warning, audible from several miles away. With such a strong sound, it is the most effective and safest way to alert others of your presence.
120 PSI Compressor: This air horn comes with a 3L / 0.8-gallon air compressor equipped with an automatic safety protection design, which will automatically stop pumping when the air pressure reaches 120PSI inside. Besides, it is equipped with 4 vibration pads and a 30-ampere fuse under the mounting leg to avoid hazards effectively.
Easy Installation: This train horn for cars is easy to install with all mounting hardware included. It is flexible and portable, so you can easily detach it from one vehicle to another. In addition to basic components for your quick installation, there are additional sealing tapes and a 6.56ft/2 m extra hose for your replacement and other use. Professional installation assistance won't be needed. You can use them anytime and anywhere.
Wide Application: The 4-trumpet train horn kit is compact enough to fit most vehicles, such as cars, boats, trucks, tractors, vans, motorcycles, etc. It is highly suitable for large vehicles in heavy traffic or emergencies.
Key Features:
Shiny Chrome Finish: Our air horn has a glistening chrome finish and can cast a striking and stylish appearance on any vehicle. High-quality chromed steel also ensures durability and longevity in various environments.
150dB Loud & Powerful: The four-trumpet air horn kit will generate a powerful 150 dB sound and blare out a warning that can't be ignored. It is specially designed to alert nearby people or vehicles on open highways.
120PSI Air Compressor: Our compressor system comes complete with a 12-volt compressor, air tank, pressure switch, and mounting hardware. They are built for excellent performance and easy installation. Our specialized compressor kit will make your horns really sing.
Reinforced Security: Equipped with a safety-valve and in-line fuse, the pump will shut off automatically when the tank pressure is over 120 PSI.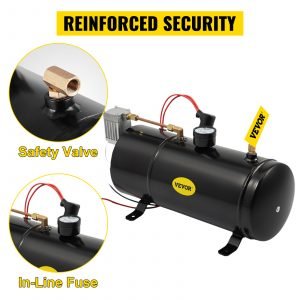 Easy Installation: This train horn kit provides everything you need, including horns, compressor, air tank, pressure switch, hose, and basic mounting hardware. Our air horn compressor kit can be installed easily.
Extensive Uses: The train horn is suitable for almost any vehicle! While it's the perfect upgrade for trucks, our horn is compatible with cars, vans, tractors, SUVs, boats, and motorcycles.
Specification:

Pressure Switch Settings: 100 PSI on, 120 PSI off
Overall size: 385 mm (L)*137 mm (W)* 183 mm (H)/15"*5"*7"
Max pressure: 120 PSI
Max Amp: 18 A
Horn Overall size: 345 mm* 155 mm* 165 mm/14"*6"*6"
Tank capacity: 3 Liters
Trumpet length: 165 mm, 225 mm, 290 mm, 345 mm(6",9",11",14")
Duty cycle: 15%
Trumpet width: 90 mm(4")
Package Content:
1 x 4-trumpet air train horn
1 x compressor
1 x hose
1 x fuse
1 x sealing tape