Car Steering Wheel Lock Column Bar
Introducing the Steering Wheel Club Car Wheel Lock! This innovative product is designed to protect your car from potential theft by deterring thieves from attempting to steal it. The adjustable bar body and ergonomic, effective design make it easy to install and use, providing a strong, sturdy, and durable security solution. The high-quality stainless steel construction and high visibility color ensure that your car is safe and visible, no matter where you park it. The product has a universal fit for any car and comes with 2 keys for added convenience. The efficient and quick assembly ensures that you can protect your car in no time.
Features and Benefits:
Upgrade material: The drill violence crack is more difficult, longer life than the industry-common zinc material lock core.
Solid lock core, high strength stiffness: Adopt a solid lock core of fine steel, eliminate hollow material, and feel better components.
Scratch-resistant: The contact position with the steering wheel is protected by a special sponge so that the steering wheel is locked without damage.
Universal and Practical: Suitable for most models, pull-up automatic lock, no need to use the key.
Security and high quality: Even if a thief starts your car, he can't drive it away. Locks onto your steering wheel making it possible to turn.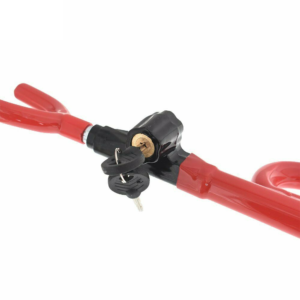 SPECIFICATION:
Weight:0.8kg
Suit for: Steering wheel
Material: steel, PVC
Lock cylinder: copper
Adaptable automobile mode: Universal
Package List: