Car Windshield Sun Shade with Storage Pouch
Is the hot sun making your car rides uncomfortable?
Let's say, you had parked your car under the sun for a while. While entering your car, have you ever had the feeling of going "Whoa" and started turning on the AC? The sun rays have the ability to amplify the harmful sun rays via your car's windshield and as a result, your car may suffer from cracked or faded dashboards, faded seats & steering wheels, and tampered LCD displays!
Do you want that feeling to stop every time you enter your car? Our Windshield Sunshade is your ideal choice. Here's why!
This Windshield Sunshield offers plenty of benefits to your car and your personal health.

It can help you reduce cabin temperature on a great scale.

You don't have to worry about the extreme internal temperatures anymore.

It can effectively block deadly ultraviolet sun rays from attacking your car interior, thus eliminating car dash cracks, worn-out steering wheels, and flaming hot car seats, and maintaining a cool and ideal car internal temperature!
Protects Your Car Interiors: We know that the sun's heat can be exhausting to you as well as to your car. Car Sun Shade for Windshield is effective against harmful UV rays from damaging your car's interior accessories. It is super durable and convenient to use.
Superior Sun Protection: Sun Shield for Car offers outstanding automotive interior sun protection. Thanks to the high-quality, durable 240T sun blocker screen protector material, your car's interior temperature will stay at an optimum level!
Easy to Use and Fold: Unlike other car windshield sunshades, our Car Window Shade Front Windshield is extremely versatile in nature. You can pop up the sunshades, install them, fold them back, and store the sunshades inside the storage pouch with ease!
Wide Range of Sizes: Worried about which sunshade size to choose? Car Sunshade auto accessories come in six different size variants that would fit right into most family-sized four-wheelers. Please refer to the size chart for the best fit.
Thorough windshield coverage!
Windshield Sunshade is proven effective in diverging heat and other harmful sun rays such as UVA and UVB.
End-to-end coverage!
Our Sunshade covers the entire front interior of your car, and protects the upholsteries of electronic panels from the sun!
Compact storage space!
Thanks to the compact pouch, you can easily fit the sunshades into any space inside your car, no matter what size you go for!
Superior features that throw the competition far away!
Overlap with ease!
Windshield Sunshade features extra fabric that allows up to 8 inches of maximum overlapping between the circles, which provides a snug fit for your car!
Toughened connectors and steel rings!
The steel ring connectors are now 3x strengthened, which offers immense durability, which makes this an immaculate accessory in the long run!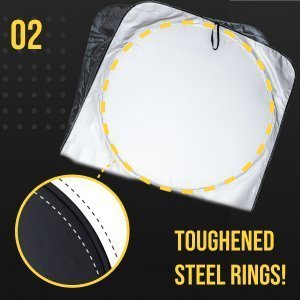 Durable material!
Unlike other sunshades that use 190T or below, our high-density, superior quality 240T polyester material protects your car from the harmful UV rays entering your car!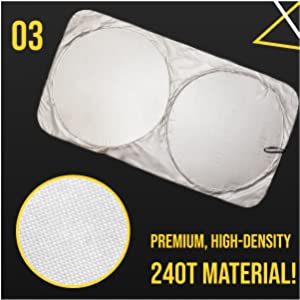 Why Choose Our Sun Shades?
We use 

240T Materials

 whereas others use 

210T or less.

Ours can be 

overlapped up to 8 inches

 for a thorough fit!
Our connectors are 

x3 times toughened 

for durability.
We offer a

 storage pouch

 for an easy fit and finish!
Confused about how to install the sunshades?
Grab the Sunshade!
For starters, unfold the Windshield Sunshade from the pouch.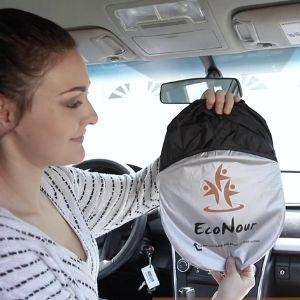 Pull Down the Visors!
Place the Windshield Sunshade against your windshield from the inside.
All Done!
Pull down the visors to prevent the sunshade from falling down!
Fold the sunshades with ease!
Sizes and Dimensions!
XS – 60 inches x 21 inches
Classic – 59 inches x 29 Inches
Medium – 64 inches x 32 Inches
Medium Plus – 64 inches x 34 inches
Large – 69 inches x 35 inches
X-Large – 75 inches x 37 inches

All sizes come with a storage pouch!