FAST INFLATING & EASY OPERATION: This auto tire air compressor can inflate your standard car tires in seconds. Plug it into the 12V power outlet in your car and attach the stem to the tire valve. One simple press on the car air compressor and it will do all the work for you. A great solution for emergencies on the way.
AUTO SHUT OFF:  Simplicity meets functionality. This car air pump provides you with rest-assured using experience based on the auto-shut-off function. Preset the desired pressure level and start inflating the job. The car air compressor will shut off automatically at the desired level. There is no need to worry about overinflating, This car air pump smart inflator for tires got your back.
LED LIGHTING FOR NIGHT TIME: To be a proper solution for the nighttime inflating job, the electric air pump comes with a LED-lighting feature to support your inflating needs in a low-light environment. Coupled with the 11.9ft power cord, both the front and the rear tires will be fully taken care of with fewer efforts as it eliminates the unnecessary hassles of unplugging the appliance every time you switch from one tire to the other.
MULTIPURPOSE NOZZLES: This tire pump is equipped with 3 additional nozzles besides the original one. A wider applying range to cover various needs for inflatables such as vehicle tires and sports or entertainment equipment including compact or midsize sedan, SUV, ATV, bike, motorcycles, air mattress, inflatable boats, balls.
Nice Helper for Deflating
When needed, the design of a multipurpose nozzle will help you to deflate fast. Keep your car more safety.
11.9-Feet-Long Range
The power cord is long enough to reach the front and rear tire with ease.
What's more, a long cord eliminates the need to unplug it each time you switch from one tire to the next.
LED Light for Emergencies
The air pump comes with an LED light. It can ensure the night test. Besides, when you park the car to inflate the tire, you could switch the light on to illuminate the tires and avoid any potential hazards.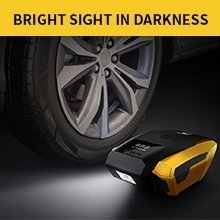 Wide Range of Use
The pump equips with 3 additional nozzles to satisfy your different needs. The different nozzle allows you to inflate car, bike, soccer, basketball, and other inflatable equipment with convenience.
Package Dimensions: ‎9.7 x 6.5 x 3.7 inches