The Heavy Duty Transmission Jack with a capacity of 1100 lbs is a specialized hydraulic telescopic tool designed for lifting and supporting heavy transmissions during maintenance or repair work. This jack offers a robust and durable construction, ensuring it can handle the weight and demands of transmission removal and installation. With its hydraulic mechanism and telescopic design, it provides smooth and controlled lifting with adjustable height options for precise positioning. The high weight capacity of 1100 lbs makes it suitable for a wide range of transmissions, including those found in trucks and other heavy-duty vehicles. Trust the Heavy Duty Transmission Jack to make your transmission work safer and more efficiently.
1100 LBS Loading Capacity: Our 1100 lbs / 1/2-ton 2-stage hydraulic telescoping transmission jack helps you easily guide a transmission securely. Great for any automotive or light truck transmission installation or removal. See where the problem is and solve it with a quality transmission jack.
33-1/2″ -67″ Lifting Range: Enhanced hydraulic pressure for an extended lifting range, the pedestal transmission jack with a 33-1/2 inch to 67-inch lift range, our jack can lift your car to any suitable height. Comes with a foot-operated pedal, so it's easier to rise, and free up your hands.
Precise Positioning: Adjustable saddle provides a wide tilt range that helps you get the load in the perfect position. The tray can be tilted 30 degrees. Adjust the angle and place you need by screwing the adjustment bolts. Set yourself up for success, control where you want to be and how you want to get the job done.
Easy to Move: Features 4 pcs swivel casters, so there is no need to worry about how to transport it to another car. An auxiliary ring is fixed in the middle of the jack, making it convenient for your hands to push or pull when you move it.
Premium High-Grade Steel: Durable frame is constructed of high-grade steel for quality and durability. A wide base provides exceptional stability, and two heavy-duty safety anchor chains are specially designed to secure loads firmly. Quality material your feel, for quality results you can see.
1100 lbs Loading Capacity: With 1/2 ton/1100 lbs of load-bearing capacity, the telescoping transmission jack provides a wide range of versatility designed to help increase shop productivity.
Extending Length: 33-1/2″ -67″: Great lift range due to the telescopic two-stage hydraulic ram, the transmission jack can extend from 33-1/2″ to 67″. The jack is raised by pedaling, so there is no need to bend over.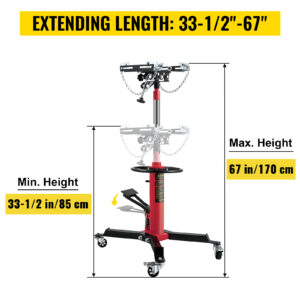 Fully Adjustable Saddle: The oversized saddle provides a wide tilt range and features adjustment knobs for controlling tilt to fit a variety of transmissions.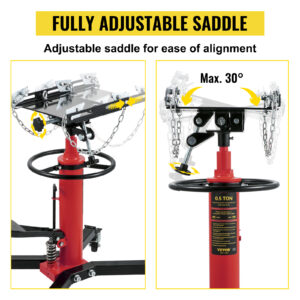 Easy to Move: An auxiliary ring is fixed in the middle of the hydraulic transmission jack for easy transmission control. And 4 pcs swivel casters add effortless maneuverability.
Strong Steel Construction: Our jack is made of strong heavy-duty steel construction for maximum durability, and a paint-coated surface for rust resistance.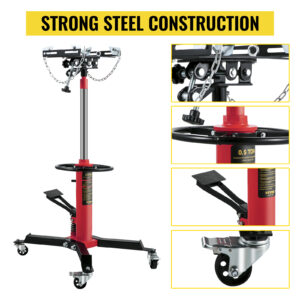 Wide Application: This transmission jack can be used in many places, such as car repair stations and car gearboxes. Deal with objects weighing no more than 1100 lbs effortlessly.
Model: 1100REDJACK
Load Capacity: 1110 lbs / 1/2 ton
Lift Range: 33-1/2″ -67″/ 85-170 cm
Material: Steel
Safety Chain Length: 23-3/5″/ 60 cm
Saddle Rotation: 360°
Saddle Tilt: 30°
Tray Size:13.8″ x 9.8″/35 x 25 cm
Product Dimension: 33.5″ x 25.6″ x 33.5″/85 x 65 x 85 cm
Net Weight: 95.9 lb/43.5 kg
Color: Red
1 x Telescopic Transmission Jack