Foxwell NT301 Supports Full OBD2&EODB Functions:
1. Read Codes: Generic, Manufacturer Specific, and Pending Codes
2. Clears Codes, Turns off Check Engine Light (MIL), and Resets monitors
3. Live Data , Reads, records, graphs & playbacks(data log) live sensor data
4. DTC definition can be automatically displayed after reading
5. View Freeze Frame which shows engine conditions such as fuel trim, engine coolant temp, etc. at the time the Malfunction Indicator Lamp(NIL) was set
6. I/M readiness one-click hotkeys for reading/clearing DTCs
7. Reads live O2 sensor
8. On-board Monitor Test
9. Component Test
10. Retrieves Vehicle information (VIN, CID, and CVN)
Turn Off Check Engine Light
Foxwell NT301 code reader is designed to inspect emission-related problems and turn off the Check Engine Light. This OBD2 code reader can easily find out the causes and help you turn off it quickly after certain repairs.
With The Foxwell NT301, You Can Get All The OBD2 Data You Need!
Reads, records, graphs & playbacks (data logging) live sensor data.
Build-in DTC Lookup
It is used to search for code definitions, saving you time to search online.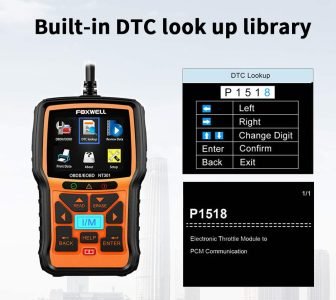 One-Click Hot Keys I/m For Reading/Clearing Dtcs
Reading/Erasing DTC and I/M readiness hot keys make it easy to use this tool right out of the package. They provide quick access to emissions readiness status, DTC information, and erase function
FOXWELL NT301 Support 10 Languages 
Foxwell NT301 Vehicle Compatibility List
Foxwell NT301 OBD2 code reader works on most US-based cars since 1996, EU-based cars since 2001, and Asian-based cars since 2007, and is compatible with OBD2 and CAN protocols: KWP2000, ISO9141, J1850 VPW, J1850 PWM, CAN (Controller Area Network).
How To Use Foxwell NT301