Benefits and Features of Foxwell NT650 Elite:
Wide Vehicle Compatibility: Provides easy diagnosis on more than 100+ manufacture 1000+ vehicles including cars, SUVs, mini-vans, and light-duty trucks.
Works on OBDII vehicles including the latest 2022 models.
Diagnosis for abs system and srs/airbag system.
Reads and clears codes and turns off MILs of all electronic control units (ECUs).
Supports 25 maintenance services like EPB, SAS, BRT, Oil Reset, etc.
Shows vehicle live sensors data in text and graph formats.
Merges interactive live sensor graphs for easy and intuitive diagnosis.
Records and playbacks your data logs, including live sensor data, and freeze data to catch intermittent failures.
Foxwell NT650 Elite Supports Full OBDII Functions:
Read Codes, Erase Codes, Live Data, Freeze Frame, I/M Readiness, O2 Monitor Test, Component Test, Vehicle Info, and DTC Lookup.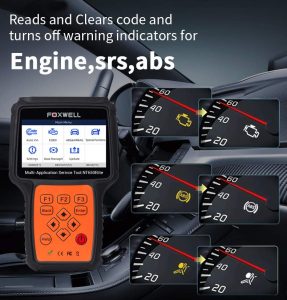 Foxwell NT650 Elite Supports TWO Main Systems Diagnostics: 
Foxwell NT650 Elite is designed for private car owners to check TWO systems, it can read and erase fault codes for ABS, Airbag Systems.
Vehicle Compatibility List for Foxwell NT650 Elite Scanner:
1. Asian vehicles:

For Acura, Dawoo, Honda, Hyundai, Isuzu, Infiniti, KIA, Lexus, Mazda, Mitsubishi, Nissan, Perodua, Proton, SsangYong, Scion, Subaru, Suzuki, Toyota, Audi, Abarth, Alfa, AstonMartin, BMW, Bentley, Bugatti, Citroen, Dacia, Eud, Ferrari, Fiat, Jaguar, Lamborghini, LANCIA, Landrover, Mercedes-Benz, MINI, Maserati, Maybach, Opel, Peugeot, Porsche, Renault, SAAB, Smart, Seat, Skoda, Sprinter, VW, VW_cv, Vauxhall, Volvo, Chrysler, Ford, GM
2. European vehicles:
For Abarth, Alfa-Romeo, Audi, AstonMartin, BMW, Bugatti, Bentley, Citroen, Dacia, EU Ford, Fiat, Jaguar, Lancia, Land Rover, Maserati, Maybach, Mercedes Benz, Mini, Opel, Peugeot, Porsche, Renault, Saab, Seat, Skoda, Smart, Sprinter, Vauxhall, Volvo, VW
3. American vehicles: 
For Chrysler, Jeep, Dodge, Ram, Ford, Lincoln, Mercury, GM ( including Brazilian car maker ), Chevrolet, Cadillac, Buick
4. Chinese vehicles: 
For BYD, Brilliance, Chery, Chery_ne, Geely, Great Wall, Karry, Rely, Riich
Foxwell NT650 Elite Supports 25 Maintenance Functions
NT650 Elite is only TWO systems diagnostic scanner but it is with 25 most common service & maintenance functions, including Oil Reset, EPB, TPS, TPMS, BRT, DPF, SAS, CVT, Odometer, Gear Learning, and Injector Coding, etc.
Latest Technology: Run Faster
Upgraded the processor to 9X35 and the running memory to 1GBit which makes the diagnostic scanner run faster.
Auto VIN: Quick Identity Vehicle
Auto VIN technology could automatically identify the vehicle's make, model, and year information.
Quick Scan: Auto Scan All Control Modules
With this function, NT650 Elite can automatically scan all control modules that exist, if any problem is found it will show the fault code to help the mechanic analyze the case.
Global OBDII/ EOBD Scan: From 1996-2021
NT650 Elite diagnostics scanner provides comprehensive diagnosis for global OBDII/EOBD vehicles.
It supports full OBD functions including reads and clear codes; turns off MILs; requests and records live sensor data; O2 Sensor and EVAP Test (Mode 8); advanced On-board Monitoring (Mode 6), etc.
Simple and Easy to use: For all level users
4. 3" color display with clearly arranged keypad, menu-driven operation, shortcuts, and easy-to-read make the scanner simple and easy to use.
In addition, NT650 Elite constructed to resist impact and damage in the tough workshop environment ensure your diagnostic tool will be around for a long time.
Excellent Value for Money: lifetime FREE update
Lifetime free update lets you always have the latest bug fixes, new vehicles coverage, newly added parameters, and functionalities at your fingertips