Foxwell NT710 Features and Benefits
2022 New Version: Updated iteration of the Foxwell NT530 and Foxwell NT510 Elite, Foxwell NT710 has upgraded hardware configurations and improved the way to upgrade.
Hardware Update: This brings huge convenience to your repair work.
OE-Level Full-System Diagnosis:  Helps you get faster and more accurate test results.
Bi-Directional Control/Active Test: Allows you to send commands to your vehicle to perform specific tests and functions to test if they are working well, helping you to reduce the diagnostic time tremendously.
One-Click WiFi Update: Say goodbye to the traditional complicated process of updating through a windows computer, you can perform a one-click update Via WiFi which is faster and more convenient.
30+ Reset Functions: Seeks to solve almost maintenance problems with one tool.
Foxwell NT710 comes with one free vehicle manufacturer software, if you need additional vehicle manufacturer software
Hardware Update
Equipped with a 5.5″ touch screen, 4000mAh powerful battery, 32 GB micro SD card, and Android 9.0 operating system. With hardware optimization, Foxwell NT710 greatly improves diagnostic speed and reduces waiting time.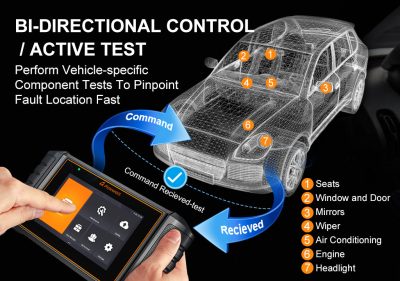 Foxwell NT710 Supports Bi-Directional Control and Active Test
Foxwell NT710 is helpful for you to perform the tests on the systems and components by reading the engine ECU data or monitoring the component operation.
Foxwell NT710 Supports OE-Level Full-System Diagnosis
Foxwell NT710 brings OE-Level diagnosis and bi-directional tests to the vehicles that need a diagnosis for maintenance or repair. This diagnostic scan tool gets access to all the electronic systems, supports some advanced functions (such as adaptations and control module coding), performs rapid and reliable analysis, records the data logs to capture every fault immediately, shows the live data to indicate the trouble accurately, etc.
Foxwell NT710 Supports 30+ Reset Functions
Foxwell NT710 is featured with more than 30 service reset functions, including EPB, OIL RESET, ABS BLEEDING, TPS, SAS, TPMS, DPF, INJECTOR, BRT, CVT, GEARLEARN, ODOMETER, PFP, SEATMATCH, AFA, CLUTCH, LANG CHANGE, WINDOWSDOOR, TURBO, HEADLAMP, TRANSMISSION ADAPTION, TCMOIL, AIRBAG RESET, EVAP TEST, CHANGE TIRE SIZE, SUSPENSION, OPDSINIT, …
Foxwell NT710 Supports Full OBD Functions
Foxwell NT710 supports full OBD functions, including Read/Clear Fault Codes, DTC Look-Up, Smog Tests, I/M Readiness, O2 Sensor Test, etc., you will not have to worry about if the vehicle emission exceeds the standard values. What's more, it reads Freeze Frame Data, and retrieves vehicle data, which is helpful for the communication between a professional mechanic and the vehicle owner.
Foxwell NT710 Vehicle Compatibility List
| | |
| --- | --- |
| Part NO. | Software included |
| BMW | BMW, MINI, Rolls-Royce |
| Chrysler | Chrysler, Jeep, Dodge |
| Ford | Ford |
| GM | GM |
| Honda | Honda, Acura |
| Mazda | Mazda |
| Nissan | Nissan, Infiniti |
| Toyota | Toyota, Lexus, Scion |
| VAG | VW, VW_CW, Audi, Bentley, Bugatti, Lamborghini, Seat, Skoda |
| Volvo | Volvo |
| Aston Martin | Aston Martin |
| Benz | Benz, Maybach, Smart, Sprinter |
| Ferrari | Ferrari |
| Fiat | Fiat, Abarth, Alfa, Romeo, Lancia |
| Hyundai | Hyundai, Kia |
| Land Rover | Land Rover, Jaguar |
| Maserati | Maserati |
| Mitsubishi | Mitsubishi |
| Opel | Opel, Vauxhall |
| Porsche | Porsche |
| Renault | Renault, Dacia |
| Peugeot | Peugeot, Citroen |
| Isuzu | Isuzu |
| Subaru | Subaru |
| Suzuki | Suzuki |
| Tata | Tata |
| Fuso | Fuso |
| Saab | Saab |
| Tesla | Tesla |