The Rolling Garage Stool with a capacity of 300 lbs is a versatile and practical seating solution for mechanics, DIY enthusiasts, and anyone working in a garage or workshop. With its adjustable height feature, it allows for customization based on the user's preference and the task at hand. The sturdy construction and high weight capacity ensure stability and durability during use. Equipped with rolling casters, this stool offers mobility and ease of movement, allowing you to effortlessly navigate around your workspace. Whether you need a comfortable seat while working on a vehicle or a convenient tool for various projects, the Rolling Garage Stool is an excellent choice.
300 LBS Rolling Garage Stool: If you're spending lots of time sitting in a garage or shop, it's definitely worth investing in an ergonomic rolling shop stool. The garage stool would be great for any projects you have to bend over. You can sit down and work instead of squatting. This 300 lbs capacity allows an adult to sit down securely. You can finish exterior jobs much easier.
24″-28.7″ Height Range: You can quickly adjust the height of the stool through the auto raise lever, from 24 in/61 cm to 28.7 in/73 cm. The adjustable height design can adapt to different users and different projects. Whether you want to wipe the top of the car or the bottom tires, you can adjust the seat's height to reduce the stress on your back and knees.
Store & Organize Your Kit: Our rolling stool comes with a peculiar design that has solved the storage issue. With the steel wire grid lower shelf, you can organize your equipment in order and keep them within reach. Put a storage compartment inside the footrest!
Durable Casters & Brakes: This rolling garage seat comes with 4 pcs 360-degree swivel casters that are 3″ in diameter. These PVC casters, coupled with the slick vinyl, and 2 pcs casters equipped with brakes mechanism, are pretty secure when working on a sloped driveway.
Take A Seat: The rolling seat stool is built to last. The textured vinyl seat cover resists rips and tears. The frame is made from steel and the seat is made from leather. It will hold 300 lbs of weight without any issues. So if you need a comfortable and durable seating option for your repair shop, garage, or home, you can look into this one.
Well-built Seat: This rolling stool is perfect for jobs that take hours to complete. The frame is steel and should withstand 300 lbs of weight in reality, getting more work done and work in comfort. The textured vinyl seat cover resists rips and tears.
Adjustable Height: With a pneumatic cylinder design, the garage stool can easily adjust the height from 24″ to 28.7″ off the ground. The max. 28.7″ height allows you to use this stool with a desk.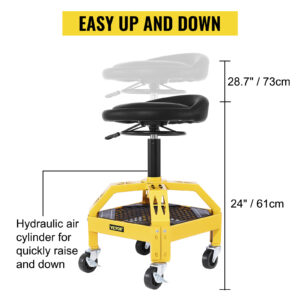 Tool Storage Shelf: Industrial strength wire grid lower shelf easily stores tools such as a screwdriver, microfiber towels, sponges, etc. Put a storage compartment inside the footrest and keep the tools within reach.
Casters and Brakes: The large 3″ diameter 360-degree swivel wheels roll soft and smooth over the floor. Two casters have a brake, so you lock the seat when reworking on a sloped driveway.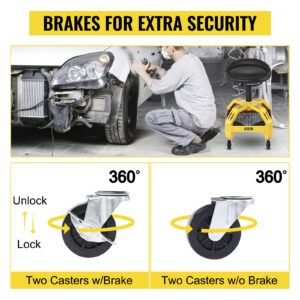 Comfortable for Longer Hours: This garage seat is a good choice regarding comfort, especially the backrest that allows you to lean in. It is stable, and its large base prevents it from tipping over.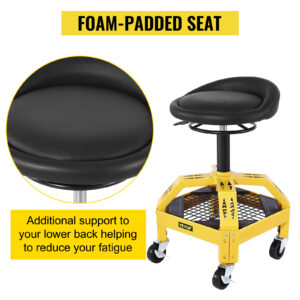 Capacity: 300 lbs/135 kg
Lift Range: 4.7 inch/12 cm
Frame Material: Steel
Min. Height: 24 in/61 cm
Max. Height: 28.7 in/73 cm
Caster Diameter: 3 in/7.6 cm
Caster Material: PVC
Number of Casters: 4 pcs
Weight: 22.5 lbs/10.2 kg
Cushion Size (W x D): 15.4 in x 13.4 in/39 cm x 34 cm
Seat Material: Leather
Tray Size: 15.7 in/40 cm
Tray Material: Steel